Let your walls breathe – naturally
Perfect like nature. With the diffusivity – sealed and permeable at the same time – of our microporous technology, our dehumidifying plaster solves problems with moisture, dampness and mould in the long term. There's a reason it's our absolute bestseller.
Dehumidifying plaster for long-term problem-solving in case of moisture and mould
Our dehumidifying plaster offers an enormous savings potential compared to other renovation methods
Lime-Cement Micropore Specialised
Restoration Plaster
Active capillary dehumidification
Very high salt resistance
Regulates the micro-climate in damp rooms
Anti-mould effect
No stand time between individual layers
Homogenous plaster structure (one material for the entire plasterwork)
Rapid dehumidification after floods
Preventive protection in floodwater areas
Suitable for perimeter areas
Object-related for listed buildings
Old and new buildings
External and internal plaster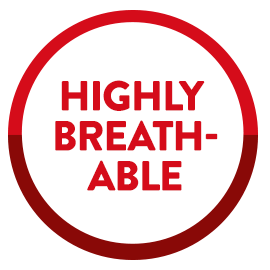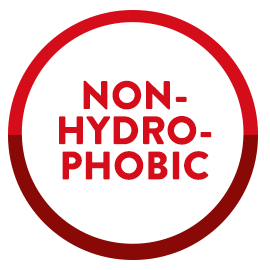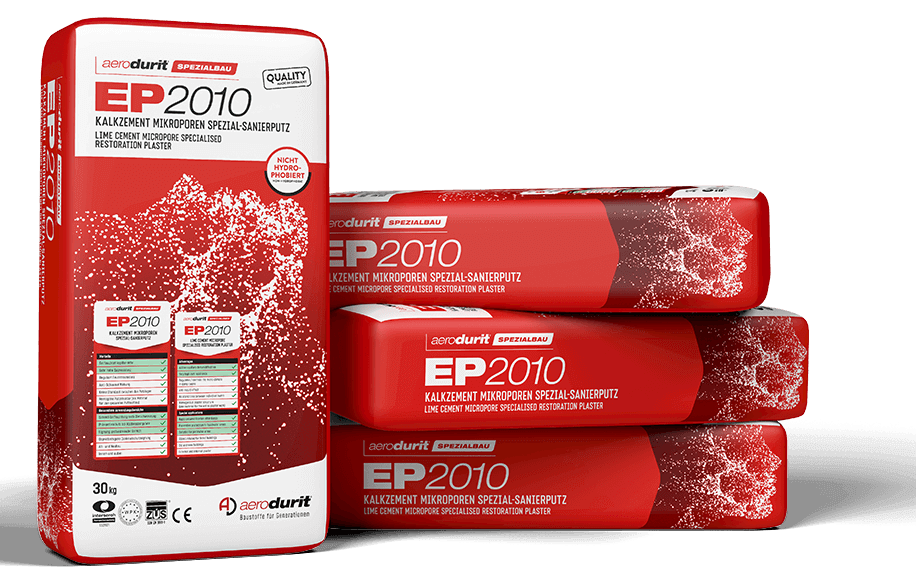 At a glance

Machine
processing

Manual
processing

External and
internal plaster

High daily performance
aerodurit® Characteristics
Renovation, wall dehumidification100%
New buildings, renovation, ecological95%
Thermal insulation, listed buildings50%
Accelerated construction process, durability100%
Details

Article no.

Grain size

Appearance

Product yield (20 mm application thickness)

Container

Supply unit quantity

ad0010

0 – 1,8 mm

Light grey

ca. 30 kg/m²; 30 kg bag = ca. 1.2 m²

30 kg paper bag

42 pc. / euro pallet

Description

EP2010 Lime-Cement Micropore Specialised Restoration Plaster
Hydraulically hardening, cementitious plaster mortar
CS II / DIN EN 998-1 (PII / DIN V 18550)

Downloads
Save money
Not just any dehumidifying plaster, but the solution to the problem: effective wall dehumidification during renovation without expensive drying measures
Save time
No standing times between the plaster layers, homogeneous plaster structure (one material for the entire plaster structure). Easy processing.
Versatile application
For inside and outside use. A preventive measure in newly constructed buildings with high exposure to the elements or for the renovation of cellars, storage rooms, churches, city walls, etc.
The proper building material
aerodurit® EP2010 Micropore Specialised Restoration Plaster (dehumidifying plaster) is used at the latest when conventional systems fail. Do not wait that long.
How does our dehumidifying plaster work?
Moisture in house construction
Anyone involved in house construction, renovation or refurbishment of old buildings always comes up against the question: How do I deal with moisture? It is considered the number one danger for masonry, as it causes the constant destruction of the building fabric. There is the threat of losing the natural thermal insulation as well as health concerns due to mould, bacteria, etc. This is why there is a growing trend towards locking out moisture.
Blocking out moisture?
Costly waterproofing, vertical and horizontal water barriers, wall drying by injection, the use of chemical substances with an unknown long-term effect on the indoor climate and health are the most common approaches. In combination with full thermal insulation, you then sit in your air and watertight sealed rooms – perspiring, cooking and showering. In this way, you create humidity inside your living area day after day, which cannot escape. Moisture condenses in the coldest parts of the walls and provides the perfect substrate for mould.
Dehumidifying plaster instead of water barriers
At aerodurit®, we know that moisture cannot be completely and permanently prevented and we offer new approaches. Artificial water barriers often become dilapidated and leaky, and the water makes its way in. It is good to have a building material that does not work against nature, but with it. We do not fight against moisture, we simply channel it through the masonry.
Rethinking wall dehumidification
During mixing, a special pore system is created in the plaster mortar of our dehumidifying plasters which helps to dry out damp walls in a very short time. Due to the physical principle of capillarity, the damp wall is literally "sucked dry". The removal of moisture and rapid evaporation result in extremely fast drying of the wall. Salts stored in the wall thus crystallise once inside the masonry and do not cause any damage.
If there is a further rise in moisture, fine particles carried along in the water contribute to the natural narrowing of these ascending paths through sintering. This creates a permanent, natural barrier and prevents renewed moisture penetration. The diffusivity and functionality of the pore system are permanently preserved. Additional measures such as sawing walls, placing metal sheets and the use of chemical substances, etc. become unnecessary.
Special building materials open to diffusion
With the diffusivity (sealed and permeable at the same time) of our microporous technology, we solve problems with moisture, dampness and mould in the long term. Due to this natural and highly efficient mechanism, the dehumidification plasters aerodurit® EP2010/ZEP2040 are used at the latest when conventional systems fail and the demand for healthy, ecologically safe living becomes clear.
We will not leave you out in the rain
Flood disasters and heavy rainfall have made headlines in recent years – thousands of families and their homes have suffered considerable damage. In such cases, those affected are faced with enormous rehabilitation work. The masonry is not always so badly damaged that it has to be completely replaced. Often wall dehumidification / renovation with aerodurit® is sufficient.

A successful renovation measure or wall dehumidification not only requires specialist knowledge but also the choice of suitable building materials. aerodurit® EP2010 dehumidifying plaster compared to other restoration plasters and competing products. Examination of the suitability as a system for application on heavily damp, salt-loaded masonry and as a measure for permanent dehumidification and drying out of masonry.
The comparison was performed under difficult conditions by the state-accredited testing and research institute BTI Bautechnisches Institut Linz. In the test, aerodurit® EP2010 was the only product that remained crack-free in the final result. Our Specialised Restoration Plaster also releases significantly more water into the environment faster via its surface. Read the official test report and see for yourself!

Weaknesses of conventional restoration plasters
A restoration plaster should protect against the decay of the masonry due to moisture and salts. In the end, however, this only works if no new moisture can penetrate the masonry. The common restoration plasters are usually hydrophobic (»pore-hydrophobic«): this process makes the plaster almost »tight« and suggests dry walls. Its function is similar to that of a barrier plaster, but the capillary rise of moisture within the masonry continues. The barrier effect merely shifts the moisture limit and the desired success is not achieved.
The question is: where does the water come from? Once the cause has been clarified, the masonry is usually protected by structural measures in such a way that it can no longer become damp. Expensive waterproofing is almost always the method of choice. It is time to rethink. With the dehumidifying plasters aerodurit® EP2010/ZEP2040 you can do without these cost-intensive measures in most cases.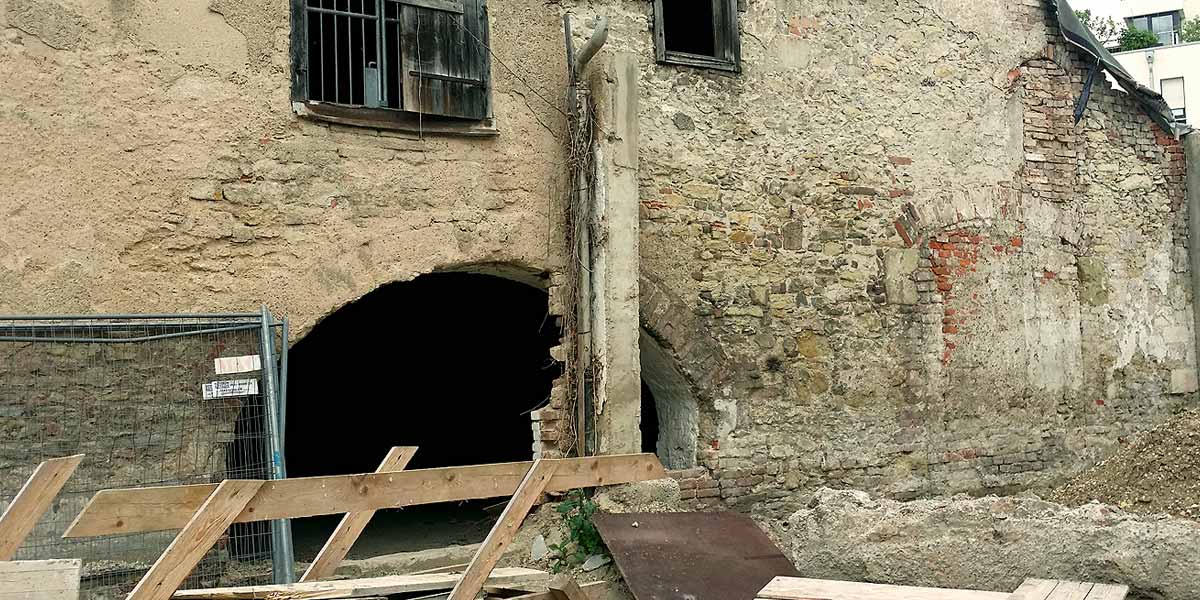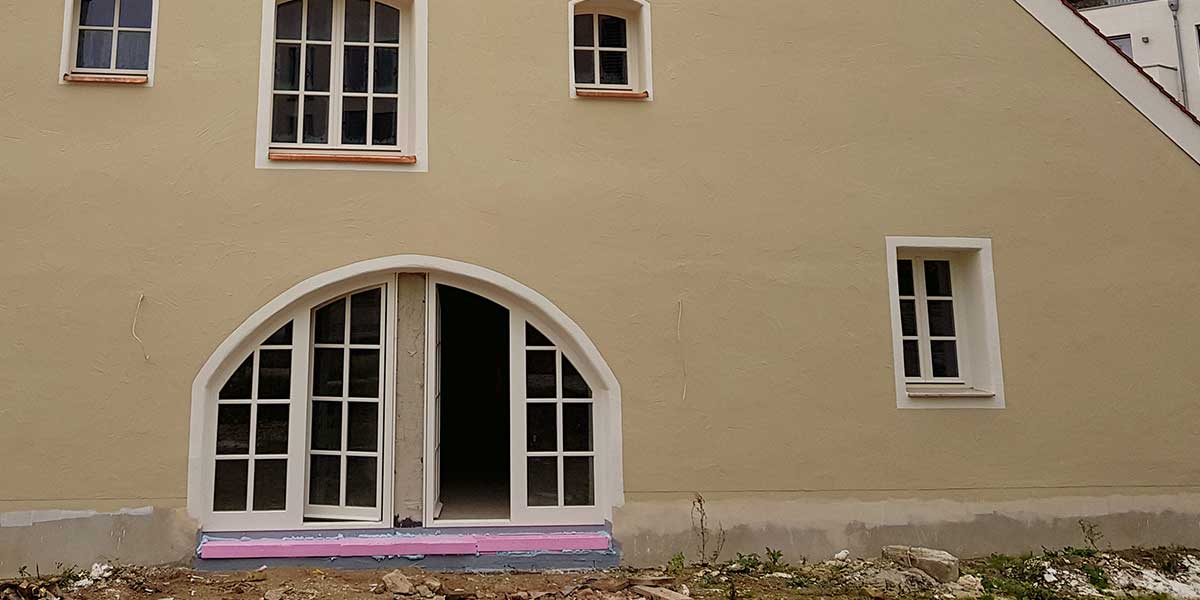 It pays off
Comparison of refurbishment costs over approx. 10 years. Average material and labour costs*
aerodurit® RESTORATION PLASTER SYSTEM€/m²



Standard restoration plaster€/m²



Waterproof plaster€/m²



Masonry replacement (ca. 50 cm)€/m²



Ramming in chrome steel plates€/m²



Sawing masonry€/m²



Drill hole injection€/m²



*Source: sirAdos construction data 8th edition. All data are approximate values and do not replace experts etc. Ask for quotations. Costs may vary greatly from region to region. Errors and omissions excepted. ** Renewal of conventional restoration plaster in case of faulty or non-functional main measure without eliminating the cause.
OUR BUILDING MATERIALS AT A GLANCE