A new tomorrow with aerodurit® AURORA
Our aerodurit® AURORA lime-cement thermal insulation plaster is the alternative to controversial ETIC systems and the trend towards "total isolation" from nature and the environment. Experience sustainable, breathable thermal insulation without biocides and polystyrene.
Natural thermal insulation with our biologically designed thermal insulation plaster
It is time for a return to natural building materials. We are ready.
Lime-Cement Thermal Insulation
Restoration Plaster
Thermal insulation plaster (WLG 055)
Free from biocides and polystyrene
Moisture and salt resistance
High diffusivity
Anti-mould effect
Monolithic plaster structure
Object-related for listed buildings
Also suitable for cellars, vaults, etc
Old and new buildings
External and internal use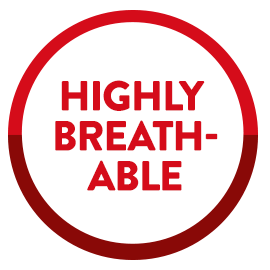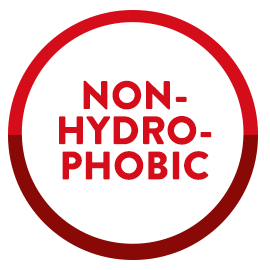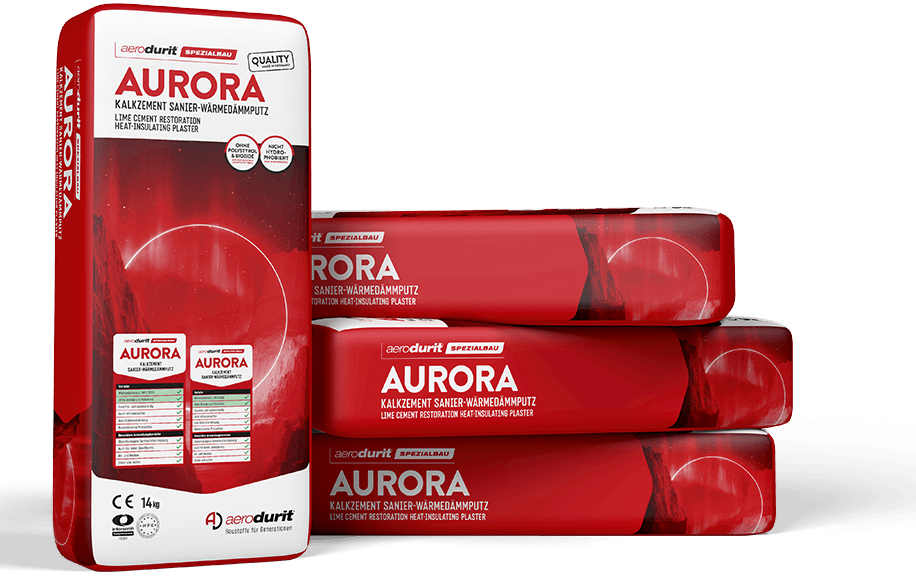 At a glance

Machine
processing

Manual
processing

External and
internal plaster

High daily performance
aerodurit® Characteristics
Renovation, wall dehumidification80%
New buildings, renovation, ecological95%
Thermal insulation, listed buildings90%
Accelerated construction process, durability60%
Article no.
Grain size
Appearance
Product yield (20 mm application thickness)
Container
Supply unit quantity
ad0280
0–4 mm
Beige
See technical data sheet
13 kg paper bag
21 pc. / euro pallet
Description
AURORA Lime-Cement Thermal Insulation Restauration Plaster
Downloads

Conventional thermal insulation with financial risks and at the expense of the environment
Do you want to save energy and heating costs by professionally insulating your house? Are you about to renovate? Decide on a sustainable, natural solution right from the start. An environmentally friendly, breathable and convincing alternative exists: discover now the numerous advantages of aerodurit® AURORA thermal insulation plaster.
ETICS insulation is not a state-of-the-art alternative
Thermal insulation composite systems (ETICS) are certainly familiar to you as frequently used means of thermal insulation. They are also the reason why the insulation of houses is increasingly viewed critically. As materials based on polystyrene (Styrofoam), they are hazardous waste and their later disposal is problematic and expensive.
Other disadvantages of these insulation systems
ETIC systems do not forgive even small construction errors. The tiniest cracks or unclean workmanship can lead to the penetration of moisture and possible mould infestation of the entire facade. These types of insulation systems must be permanently monitored and maintained. The intensity of maintenance calls the entire insulation into question since the aim of a renovation is to provide lasting protection against moisture. In addition, facades to be renovated are usually already more or less thoroughly damp. If an intensively sealing, non-breathable insulation is used here, the negative consequences of moisture in the masonry are often even increased.
House climate and thermal insulation composite systems
They are not breathable and are so tight that air and moisture are completely locked out or trapped and no natural circulation can take place. In order to prevent mould growth and improve the quality of the air we breathe, costly and energy-intensive ventilation systems must therefore usually be used, which unfortunately often cannot prevent mould growth. All too often, the savings in heating costs are cancelled out by the necessary ventilation.
It has also become apparent that woodpeckers find a warm façade insulated with polystyrene insulation materials extremely attractive. They make holes in the façade and use them as nesting holes, which naturally opens the door to moisture penetration and can lead to the total failure of the entire facade system.
Fire protection is also an extremely critical issue with polystyrene-based insulation materials. Although they are regarded as flame-retardant, they are generally flammable, which is why a flame retardant must be added to the material. Until 2013, the toxic fire protection agent hexabromocyclododecane (HBCD) was used, which was banned worldwide - but only after it had already been used in countless insulations in Germany.
All these aspects led to the fact that some countries now ban the use of polystyrene as an insulation material in principle. This applies, for example, to Denmark and many states in the USA.
Rethinking thermal insulation is urgently needed
External thermal insulation composite systems (ETICS) usually lead to a dense, unnatural and non-breathable construction. The heating cost savings and the energy-saving effect are achieved here at the expense of the environment, with potentially high maintenance costs and numerous other risks.
​Advantages of thermal insulation with aerodurit® AURORA thermal insulation plaster
There are other ways to achieve sustainable thermal insulation
The aerodurit® AURORA thermal insulation plaster system is thermal insulation based on natural materials such as calcium hydroxide (lime), cement and perlite (volcanic rock). This material base achieves a high thermal insulation performance and does not contain any combustible additives such as polystyrene, biocides or cork. It is therefore non-combustible and highly resistant to environmental influences such as moisture, salts and frost. Due to the simple processing, the renovation effort is much lower than with polystyrene-based materials, because only plastering is required.
Natural construction and renovation
In addition to the desired savings in heating costs, the mineral insulation material also ensures a pleasant room climate. The breathable facade prevents the formation of mould and algae because a constant exchange of air and moisture is guaranteed. Separate ventilation systems due to the insulation are therefore unnecessary.
As the aerodurit® AURORA thermal insulation plaster system does not contain any environmentally harmful chemical additives, there is neither hazardous waste nor increased effort in the event of possible disposal. Woodpeckers will not find any attack surface on facades insulated with aerodurit® AURORA and minor damage will not lead to a total failure of the system.
Soaked masonry - no problem!
The aerodurit® AURORA thermal insulation plaster system can even be applied in renovations where the masonry is already damp. A preparatory layer of our dehumidifying plaster aerodurit® EP2010, which has been proven over decades, makes this possible.
Minimum follow-up costs and risk
This natural thermal insulation does not require a lot of maintenance in the long run, so there are no follow-up costs that are difficult to calculate. The renovation with the aerodurit® AURORA thermal insulation plaster system is a long-term, sustainable solution from which you – and also the environment – will permanently benefit.
Thermal insulation in line with the environment
If you want to save energy and heating costs by professionally insulating your facade, the aerodurit® AURORA thermal insulation plaster system is your first choice. You are not only on the safe side when it comes to saving energy. You are also opting for sustainable, natural thermal insulation that meets the requirements of the 21st century.
Whether a renovation or new building, aerodurit® AURORA thermal insulation plaster system offers you an optimum alternative to conventional insulation systems. It is also likely that more and more countries will prohibit polystyrene-based insulation. A new morning is dawning, the night is over. Choose thermal insulation with future - trust in the aerodurit® AURORA thermal insulation plaster system.
OUR BUILDING MATERIALS AT A GLANCE